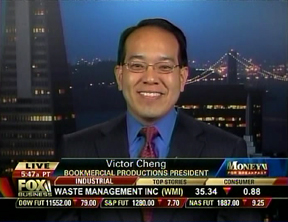 Four years ago, I was invited to sit in on a small, private, high-level mastermind led by Victor Cheng, a business growth expert who helps businesses grow from $1 million to $10 million, and from $10M to $100M, who is often quoted by reporters from Fox News, MSNBC, Inc. magazine, Entrepreneur, Forbes, Time, and the Wall Street Journal.
The second Victor opened his mouth and started talking, my jaw hit the floor. It stayed there pretty much for the next several hours (I did eventually shut my jaw, after he stopped talking.) I had never heard such a nonstop blitzkrieg torrent of brilliant, counter-intuitive, specific, street-smart "Why didn't I think of that??!!" business advice, delivered with such precision, confidence, authority and clarity.
Well, on Thursday, 9/22/11, I had the privilege of sharing his insight for 90 minutes live on a teleconference, on the topic of my own upcoming book The Education of Millionaires (which he's featured in).
We  had e a free-wheeling, shocking, highly-caffeinated, no-holds-barred, controversial, angry-making dialogue together, packed with counter-intuitive, real-world, street-smart career development, education and and business growth strategies that they DON'T teach at Harvard Business School. It will get you riled up to take your career success to the next level.
Listen below!
–Michael
Here's some additional info Victor sent to his own list before the event – "straight from the master himself":
—————————-
From: Victor Cheng
Subject: What They Don't Teach You at Harvard Business School
In an upcoming teleconference with Michael Ellsberg,  I'm going to focus on how to have a successful career over the LONG TERM in any field.
While everything I have written in the past about in terms of resumes, cover letters, GPA's and the like are indeed quite important in getting your first job. The value of these type of credentials diminishes quickly after the first job.
Your success depends increasingly on "What have you done for me lately?" than what you did when you were in school.
Here's another example, if you look at Harvard Business School alumni from 20 years ago and where they are today.
A few are Fortune 500 CEOs.
A few are unemployed.
While people in both groups had the same education, clearly SOMETHING separated them…. and YOU knowing what these differences are today, can help your career tomorrow.
Let me give you one simple example.
In my opinion, one big factor that separates the successful from the rest is one's ability to sell… whether that's selling a product, a service, an idea, a engineering design, or a vision.
If you look at the Profit & Loss statement of any business, you realize that without any sales, it's impossible to have a profit.
Yet, a few years ago, I checked the combined business school course catalogs of Harvard, Stanford, and Wharton to see if  ANY of these schools had a course on "sales"… which I define as "sitting face to face with a prospect and having them buy something from you."
Out of roughly 400 courses, there wasn't even ONE course on "sales".
I found that quite remarkable… and actually ridiculous.
Ask ANY CEO of any company (that's successful anyways) if the ability to sell effectively is important to the success of their company, and I'm certain 100% will say "yes".
Yet, it is NOT taught in the top business schools. By the way, several years ago, I shared this story with former client and friend Michael Ellsberg.
I had forgotten that Michael had recorded our conversation on sales from a few years ago. I guess it left a big impression on him because recently asked to publish excerpts from that impromptu sales training I gave him in his forthcoming book, "The Education of Millionaires: It's Not What You Think and It's Not Too Late"
The premise of the book (which I very much agree with) is that the skills needed to have an extremely successful LONG TERM career are NOT taught by academic institutions. They are the skills learned AFTER formal education ends.
In the consulting world, I've consistently said you get hired by the top firms based on your "book smarts" (academic performance), you get PROMOTED based on your "street smarts"—namely soft skills such as empathy with clients, ability to sell, listening skills, conflict resolution leading teams, networking, building relationships, leadership, etc…
In researching his book about these "street smarts", Michael spent two years following around nearly 40 millionaires and billionaires who never graduated from college.
His focus was to DEFINE the 7 SPECIFIC skills that make someone "street smart" (in addition to, or in some cases instead of, "book smart").
I've already mentioned one of them, the ability to SELL effectively.
Another one, is the ability to build a PERSONAL BRAND.
This is something that I have focused quite extensively, especially over the last 3 years. It is also something that occupies an enormous amount of my attention these days.
That should tell you something of the importance I place on this in today's world.
As someone phrased so eloquently, "Google is the new resume of the future." That's increasingly true with each passing day.
In an upcoming LIVE (and free) Web-Event, Michael and I will be comparing notes on how to develop strong sales skills, build a personal brand, and the other "street smart" skills.
I hope to see you on the call for what I'm certain will be a provocative and insightful conversation.
Thanks,
–Victor Cheng
Listen below!