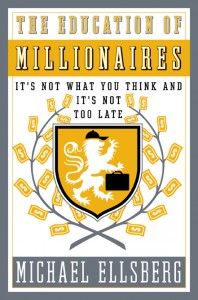 [Here is the full Introduction to my forthcoming book The Education of Millionaires. Since this piece is being made available here a month before the book is being released, Penguin has asked me to include the following proviso: "These are unrevised and unpublished proofs. Please do not quote for publication until verified with the finished book." Thank you. Enjoy! –Michael]
You've been fed a lie. The lie is that if you study hard in school, get good grades, get into a good college, and get a degree, then your success in life is guaranteed.
This might have been true fifty years ago. But it is no longer true today.
If you want to succeed now, then you must also educate yourself in the real-world skills, capabilities, and mindsets that will get you ahead outside of the classroom. This is true whether you've been to college or not.
This book shows you the way.
Why Practical Intelligence Almost Always Beats Academic Intelligence
A thirty-seven-year-old Harvard MBA and a twentysomething college dropout, the latter a few credits shy of a film and theater degree from USC, are sitting across each other in a job interview. The MBA is wearing a crisply pressed three-piece suit with a yellow tie. The twentysomething is wearing jeans and a pullover sweatshirt, with no shirt underneath. The twentysomething is unshaven, and the state of his hair suggests that not much grooming had occurred between his departure from bed that morning and this interview.
The interview is going very, very poorly. The interviewer is entirely unimpressed with the academic background the interviewee brings to the table, and feels the interviewee doesn't have enough experience to provide tangible value in the chaotic environment of a real-world start-up.
Bryan Franklin, the dropout theater major, decided to hire someone else that day for the $10-an-hour administrative and data entry job he had posted on Craigslist a few days before.
Bryan had started a sound design business in college and got too caught up in building and running the business to finish his degree. Eventually, over three hundred feature films were edited or mixed at his studio, including Gladiator, The Last Samurai, and Artificial Intelligence. Bootstrapping the business from the ground up and never once taking on investor money, he eventually sold it in 2000, after Dody Dorn was nominated for an Oscar for editing the film Memento, which she cut at the studio. The sale of the company "bought me a house on Lombard Street in San Francisco," as Bryan put it with a smile.
Now in early 2002, he was on his third self-made, self-funded, profitable business, and he needed an assistant, so he posted an ad on Craigslist, Bryan told me. "Within twenty-four hours, I had two hundred responses. Most of them had BAs, but there were also many masters', several with JDs who had passed the bar, a few PhDs, and around six MBAs. The Harvard MBA got me curious. I put him on a shortlist. He was one of the ten or so I interviewed.
"He came to my house in a three-piece suit. I was talking to him about the website he was going to be doing data entry for at ten dollars an hour, and he was stuck in a very 1999 mentality about the Web. I don't think he said the word 'IPO,' but I'm pretty sure he said the word 'liquidity' at some point in the interview.
"And I'm like, 'Look, I'm looking for data entry and customer service. I want to make sure that when a customer calls, they feel taken care of.'
"And he said, 'Well, you know, I think that we need to be strategic about which relationships we can leverage . . .' And that's kind of how the interview went. At one point he started saying, 'So, there's obviously several disparate paths involved and different priorities, so one of the things I'd do in my first week is build a priority matrix, so that we could reference . . .' And I just had this picture in my mind of him building his priority matrix while I was doing all the work.
"I ended up hiring a young African American woman. She was a high school dropout, but she had a great work ethic and lots of street smarts. She ended up doing a terrific job over three years. She got several raises, and at one point was managing three people."
Next: What you will learn in college, and what you won't