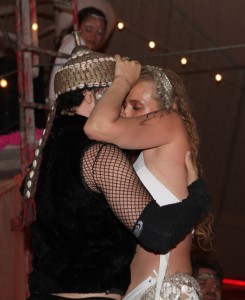 At Burning Man, I received the greatest surprise gift I've ever received in my whole life. Perhaps the greatest surprise I'll *ever* receive again.
It happened like this.
My friend and mentor Bryan Franklin was very excited about putting on a DJ set at our camp. A successful Silicon Valley executive coach, he had also been a serious electronic music producer as a side-passion for years. He decided that this DJ set was going to be the birth of the public persona as a producer and DJ, under his stage name NIMITAE.
(NIMITAE stands for "Nothing is More Important Than Anything Else." You can ask him what that means, but probably not knowing is just as important as knowing… ;-)
So NIMITAE, as he was going by on the playa, was all excited about this show he was putting on, in fact, he couldn't stop talking about it. He said he was incredibly nervous about it, but I couldn't understand why, as I'd been hearing him play his music informally for year at parties and such.
In recent years, he has been moved to create songs in honor of couples whom he finds inspiring in his community. He started by creating a song about our friends Kate and David Niebauer, called Earth on Fire, which he unveiled at our New Years party two years ago.
Then he created a song inspired by our friends Eben Pagan and Annie Lalla (who met at Burning Man 2009), called Guru And The Avatar.
Then, in his most personally meaningful creation yet, he created one in honor of his own relationship with his bride-to-be, Jennifer Russell. He unveiled this song, called Warrior Catches Thief as his first dance with Jennifer, at the reception to their wedding last June.
So, about 50 of our friends and campmates were gathered for NIMITAE's DJ set of original music at the chill space of our camp, Camp Mystic, Wednesday night of Burning Man this year. I thought it was going to be a 3-song set, as Bryan has created 3 songs.
He played the first song, Earth on Fire, and Kate danced to it beautifully solo. (David was not at Burning Man that year.)
Then he played the second song, Guru And the Avatar, and Annie and Eben danced perhaps their hottest dance ever to it in front of everyone.
Then, NIMITAE said on the mic, "I'm having a little trouble finding the next song."
I called out from the crowd, "I have it on my laptop!", as I have all 3 of his original songs there, easily accessible.
Bryan said to the crowd, "Michael thinks he has the next song on his laptop." The crowd laughed. I thought it was strange that Bryan would make fun of me like that for offering to help. And I didn't understand why the crowd laughed.
As Bryan starting describing the couple that inspired his third song of the set, something seemed off. "Wait, that doesn't sound like Bryan and Jennifer at all," I thought.
Then, as he described more, I thought, "Wait, that kinda sounds like… me and Jena!"
When NIMITAE finished describing the couple that inspired the song, he said, "And this song is called… Temple of Erotic Innocence." And as he pressed Play on it, he pointed right at me and Jena…
NIMITAE – Temple Of Erotic Innocence by NIMITAE
Jena and I got up and did something we will probably never have the opportunity to do again… an impromptu, improvisational dance performance, to a surprise song written about us and in honor of us, unveiled to us in that very moment by one of our favorite musicians in the world.
We danced, we laughed, we smiled, we hugged, we kissed, we cried.
And for the next six minutes, we basked in receiving the greatest surprise gift of our lives.
Here is a video that captures some of that moment (NIMITAE dances in silver in the middle of the clip…)
It turns out, NIMITAE had been spending months, since his wedding, creating and preparing the song for this very unveiling. He enlisted our dear friend Ariel White to sing haunting melodies in Gaelic, so that the song would have both Irish influences (reflecting Jena's roots) and latin influences (reflecting my life-long passion for salsa music and dance.) (Ariel can be seen dancing directly to the right of NIMITAE in the middle of the video clip above.)
The title is a mix of one concept that is core to me and my spirituality and thinking—"The Temple of Wife Worship"—and of a concept that is central to Jena's philosophy and teachings, "erotic innocence." They combine to make Temple of Erotic Innocence.
Thank you Bryan. Thank you Ariel. We love you, and we will always be grateful.